WIRELESSLY CHARGE YOUR MOBILE DEVICES
With the QI Wireless Charging Pad, you can charge Samsung, Nokia and other Qi-enabled smartphones without bothering with plugs or cables. This charger uses Qi-certified transmitting coils to deliver charge to your phone wirelessly. Simply place the phone on the charging pad and wait for the LED indicator to light up. Your phone will begin charging by induction. You'll be able to fully charge your phone without ever having to look for a cable.
RAPID, CONTINUOUS CHARGING
Although the charger works wirelessly, it doesn't sacrifice speed. The charger can bring your phone's battery from zero to 100 percent just as quickly as a conventional, 5-watt wired adapter. With its 1-amp output, the charger delivers power to your phone smoothly and quickly.
ELEGANT, COMPACT DESIGN
You can easily slip the QI Wireless Charging Pad into a pocket or bag thanks to its compact, travel-friendly design. The charger features a small footprint and takes up a minimal amount of space on your desk. And with its elegant design and black finish, it can blend in with any home or office environment.
SOFT PAD KEEPS YOUR PHONE SECURE
The charging pad of the QI Wireless Charging Pad is soft and smooth, providing your phone with a safe cushion while it is charging. The pad's high-friction material grips the phone and prevents it from slipping.
COMPATIBLE WITH ANY QI-ENABLED DEVICE
The QI Wireless Charging Pad can provide a charge to any device with integrated Qi functionality, including the Google Nexus 6, LG G2, and the Google Nexus 7 tablet. Other phones, such as the Samsung Galaxy S5 and Apple iPhone 5/5s, can become Qi-enabled if you equip them with a Qi-receiving battery shell or case.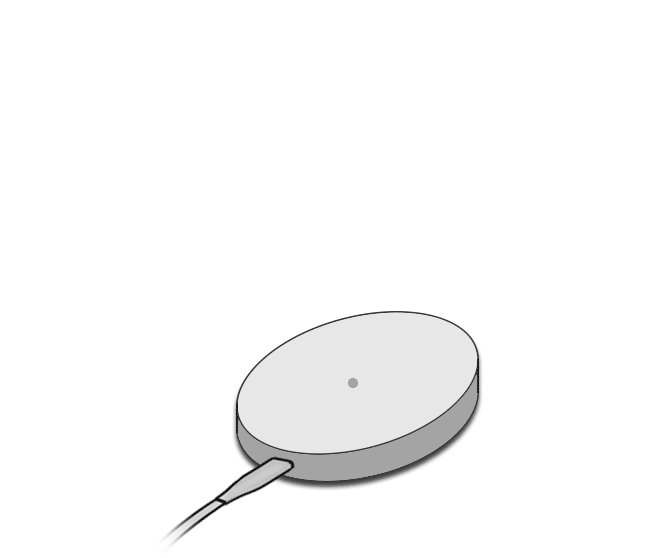 COMES WITH BELKIN WALL ADAPTER AND CABLE
The QI Wireless Charging Pad comes bundled with a Belkin Micro USB Cable and a 2-amp wall adapter, which it uses as a power supply. You can also use the wall adapter and cable independently of the charging pad to charge any device with a micro-USB input.
At A Glance:
Qi-certified charger delivers charge to your phone wirelessly
1-amp output for fast charging
Stylish and portable design
Soft charging pad prevents scratching and slipping
Compatible with any Qi-enabled smartphone
Includes wall adapter and micro-USB-to-USB cable