DESCRIPTION
Handheld Fabric Steam Cleaner/Ironing
                Are you tired of struggling with the iron and ironing board? Are you sick and tired of positioning and repositioning clothes, repeating the same movements and adjusting each individual button?

Say goodbye to old-fashioned irons and ironing boards, and spending money on dry-cleaning! Introducing Steam Iron. It uses a revolutionary new steam-based system to make wrinkles disappear quickly and easily, and at the same time it cleans your clothes and eliminates unpleasant odors. It's the same system used by professional dry cleaners and the fashion industry. Steam Iron is much quicker than a conventional iron.
The steam from Steam Iron eliminates wrinkles and cares for your clothing at the same time. It's perfect for all kinds of material. You can steam clothes right on the hanger.
And not only that, you can use the disinfecting power of steam to clean your clothes just like the professionals do. It eliminates wrinkles and restores fibers to their original shape, making clothes look as good as new.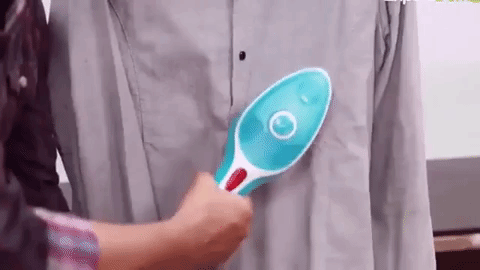 If you've been to a party Steam Iron powerful steam makes unpleasant odors disappear completely.
Steam Iron is gentle on delicate clothes but powerful enough to eliminate wrinkles. Steam Iron always gives amazing results.
And best of all, now you don't have to adjust the temperature for different kinds of material. You'll save so much time!
The future is here: cleaning, drying and ironing at the same time.