DESCRIPTION
Belvia Aire Bra
"MEET THE WORLD'S MOST
 

COMFORTABLE

 

&

 

SMOOTH."
Choosing the wrong bra can cause you pain and discomfort, and can leave you with unattractive lumps and bumps under your clothes. Discover comfortable and smooth bra with Belvia: this unique new bra comforts you curves without the wires or hooks that can dig into your skin. Made from a unique stretch fabric, Belvia Bra gives you a perfect fit and a smooth shape.
There are no complicated fittings, just choose your top size and let Belvia fit to you. It's almost invisible under your clothes; it won't leave bulges and you won't need to constantly adjust the straps. Belvia is so comfortable bra it won't even feel like you're wearing a bra at all.
This seamless bra has no hooks and wires at all. Moreover, this bra doesn't cause to the delicate skin because it is made from the knitted fabric. This bra is more light-weight , soft bra , comfortable , seamless bra , and body-friendly than the ordinary bra. The fabric of Aire bra is stretchable and can easily adapt according to the breast size right from the day one. It saves the precious time of women to adjust the seamless bra each they try it on. This seamless bra is so comfortable that women can even sleep while wearing it. The Aire Bra from belvia comes in one size that fits all. This bra can also repel the sweat, so you stay fresh for all day long. Now get rid of your traditional bra and purchase the new Slim N Lift Aire Bra from TVSHOPEE.PK today!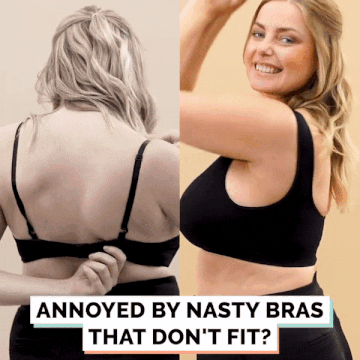 The Seamless Bra in Pakistan can be a breath of recent air for the entire busted figure! created of ninety 2 Nylon + eight might 1945 material, TVSHOPEE.PK in Pakistan it wraps around your body and forms a sleek, accent match. The seamless bra air cups unit exhausting to allow for natural 
TVSHOPEE.PK products in Pakistan the sleek look and comfy feel of the Seamless Bra in Pakistan will produce it your everyday favorite!
"What ever you are facing right now there is a way out which the
 

comfortable Aire bra

 

"
FEATURES OF AIRE BRA:
◉ FULL COVERAGE CUPS.
◉ EXTRA LARGE SIZE STRAPS
◉  SEAMLESS BRA
◉ LIGHT WEIGHT
◉ SMOOTH BRA
◉ COMFORTABLE
◉ BODY-FRIENDLY
◉ SOFT BRA