Product Description

Cordless Speedy Sweep is a manual sweeper by Tvshopee. This rotating brush broom safely cleans tile and hardwood floors without the need of cords, batteries, bags or dustpans. 
Tvshopee.pk Cordless Speedy Sweep triple rotating brushes rotate 360 degrees to loosen, lift, and channel the dirt and debris into the built-in, easy to empty dust pan. The convenient fold flat, pivoting handle allows you to easily reach under furniture and in hard to reach places. Although the Cordless Speedy Sweep is lightweight, weighing less than 2 pounds, is can easily clean up those everyday messes. And, no cords, bags or batteries to mess with. Compact for easy storage. 

Cordless Speedy Sweep glides over floors effortlessly and quietly, perfect for cleaning while the baby is sleeping or while watching TV. 
PRODUCT DESCRIPTION
Practical hand push type sweeping machine household plastic broom dustpan set vacuum floor cleaner gift, hand-propelled sweeper.

The hand-propelled sweeping machine is a combination of broom, dustpan, and trash, 

a new generation of cleaning products. 

It is easy to operate and can dust throughout

 every corner

 of your home just with a gentle push.

This product adopts high-quality 

pig's bristles and nylon bristles 

and other materials.

Any hard ground, flat floor (plastic, wood, marble, marble, ceramic tile, cement floor structure etc.) can be applied to, except the carpet.

Safe to use it on tile, marble, linoleum, hardwood with no scuffing or scratching!

Uses 3 rotating brushes to sweep up the dirt and debris easily into the onboard dustpan.

With the foldable handle, it's easy to reach hard-to-reach places and makes storage simple.

Suitable for synthetic flooring, solid wood flooring, marble floors, floor coverings, floor tiles, and any other flat surface, this mop can be used for all flat surfaces.
FEATURES
Come with 'broom, dustpan and trash bin 3 in 1.

360 degree rotating brush with high-speed rotation to touchdown rubbish dust swept into the dustbin.

It cleans off even the smallest piece of dust or pet hair off your floor.

Adjustable handle, control the handle length freely

The adjustable handle height makes it easier for anyone to use.

Without a power supply, energy conservation, and environmental protection, applicability is wide.

Once cleaning is completed, pull the rear surface of the chassis pull ring, the inner lid opens automatically to throw away the debris. It's really that simple.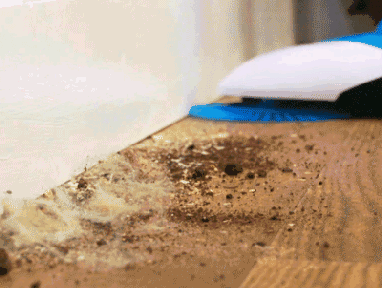 DO IT YOURSELF
Spin Broom the cordless, lightweight, spinning broom that cleans up every mess with ease! From the Makers of the Hurricane Spin Mop, the spin broom's secret is the triple brush technology that rotates with cyclonic action, pulling in everything in its path! Simply roll over the mess! Just one pass picks up any mess with ease. 
Weighing less than two pounds, it stores anywhere and the no-touch, large capacity bin is built-in and empties in seconds. And, it's easy to store with a convenient hole at the top of the handle. Handle is 38.5" long. Broom head is 12" across. 
Hurricane Spin Brooms revolutionary swivel steering gives you incredible maneuverability, and the bristles can reach outside of the sweeper, a must for cleaning against your baseboards. Easily cleans wet or dry messes. Hurricane Spin Broom as seen on TV is perfect for hard woods, laminates and even tiles, the bristles get deep into the grout lines.