DESCRIPTION

A healthy body sets the stage for your day-to-day well-being and how well you will age. Stand in front of the mirror & see if you really have that natural healthy body or not. If not, then you need this amazing body massager, Relax & Tone.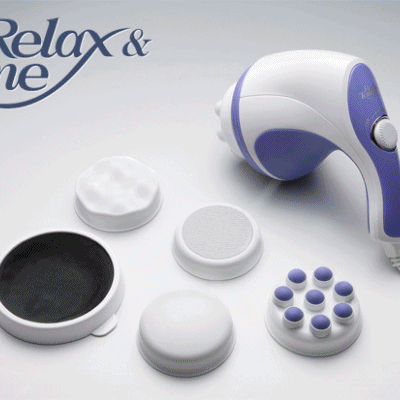 Relax & Tone is the best handheld massager on the market as it can give you a professional feel massage from the comfort of your own home. It can help to loosen even tight knots in tired muscles. Forget about expensive slimming program or membership, this Relax & Tone Body Massager is the only effective tool you need to shape and tone not just your face but whole body! 
Relax & Tone is a lightweight and effective handheld massager capable of targeting your abs, buns, thighs, calves, and underarms. Its unique oscillating feature penetrates deeply into the inner layers of your skin to help break down unwanted fat and burn calories. Simply place it over any area of your body you wish to slim down, and it will help shake away excess fat. It is very light, handy and convenient to carry. This powerful full body massager comes complete with the following:-
FOUR MASSAGE HEADS

Flathead: For neck pressure release

Wave head: For Point deep massage

Ball bearing head: To accelerate blood circulation

Scrubber Head: To get rid of dead and callous skin
BENEFITS
Relax & Soothe your muscles while removing all aches & pains.
The massager helps to cleanse your skin.
Increases the circulation of lymphocyte and enhances the blood circulation.
Can be used as a revitalizing head massage.

Disassociating and breaking down accumulated unwanted fat.
FEATURES
Safety cover: Hair Protection Cover, Prevents hair from getting tangled
Engineered and designed to conform to body curves
Unique rapid rotation and powerful massage takes away aches and pains
Incremental speed dial adjustment
High Rotational Speed up to 2500 RPM
Comfortable soft rubber hand grip